Important Note from SPL: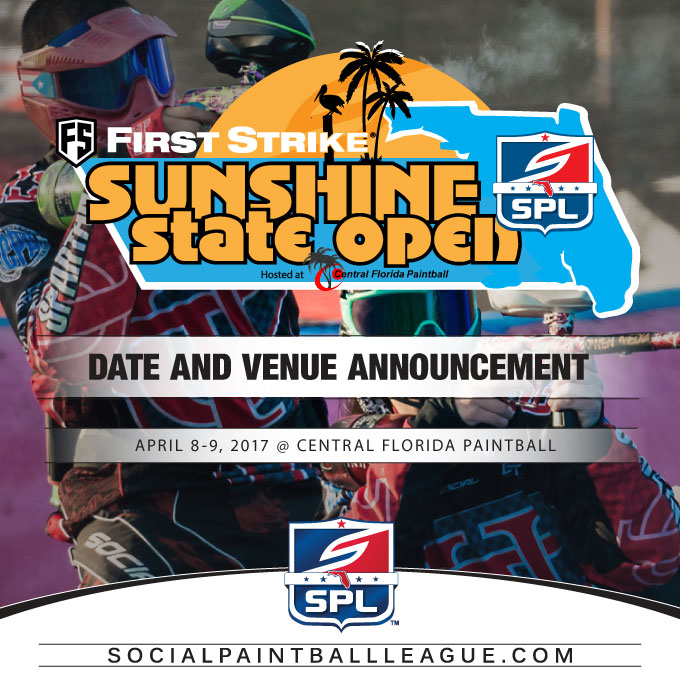 Social Paintball League - First Strike Sunshine State Open
Event Date: Saturday, April 8th to Sunday, April 9th, 2017
Venue:
Central Florida Paintball
9365 Us Highway 98 N
Lakeland, Florida 33809
United States
Map & Directions
Divisions, Entry Fees, and Payment Deadlines:
Group
Signed Up
Paid
Limit
Class
Through
Monday,
March 27th
Through
Monday,
April 3rd
Signed Up
Paid
Limit
RaceTo-2 (3-man)
(Sat)
30
8
None
Division 4/5 (D4)
$150
$200


($50 Late Fee)

11
3
None
Division 6
$125
$175


($50 Late Fee)

19
5
None
RaceTo-2 (5-man)
(Sun)
41
16
None
Division 4
$300
$350


($50 Late Fee)

12
7
None
Division 5
$300
$350


($50 Late Fee)

29
9
None
Division 4 X-Ball™
(Sun)
11
5
None
Division 4
$450
$500


($50 Late Fee)

11
5
None
Division 3 X-Ball™
(Sat)
8
3
None
Division 3
$450
$500


($50 Late Fee)

8
3
None
Payment deadlines are at 11:59 PM EST unless otherwise noted above.
16 RaceTo-2 (5-man) teams paid of 41 teams registered.
8 RaceTo-2 (3-man) teams paid of 30 teams registered.
8 X-Ball™ teams paid of 19 teams registered.
32 teams paid of 90 teams registered.
&nbsp
Click here for league season rankings.
Once you have at least your player ID number, you can sign your team up for the event.
Anytime before the event registration deadline, you can go back to the team list and pay your entry fee, or click on your roster to add or remove players. Be aware that you don't have a spot in the tournament until your entry fee is paid, so don't wait too long or the event might sell out!
Log In to your player profile, upload a photo, and pay for your player registration fee so that your ID card will be ready for you at the next event. Doing this online saves you time and money, but make sure you do it before the registration deadline!
Also note that you can pay player registration fees for anyone on your team from your team roster!
Get Directions